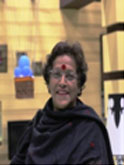 shoma A Chatterji
Shoma A Chatterji is a noted author, freelance journalist and film scholar. She holds a Masters in Economics and a Masters in Education from the University of Mumbai. She obtained her PhD in History (Indian Cinema) from Netaji Subhas University, Kolkata.
Her areas of specialization include cinema, gender, television, child rights, human rights, literature and relationships. She conducts workshops on writing, journalism and film appreciation in Mumbai and Kolkata, and has made presentations on gender and cinema across India and beyond. She has served on the International and FIPRESCI Jury at several Film festivals across the world.
She has been recipient of many awards, some of which include Best Film Critic in 1991 at the National Awards; Best Film Critic Award from the Bengal Film Journalists' Association in 1998; commendation for her 'Outstanding Contribution to Women's Issues' from the Eve's Weekly Woman Journalist Award; National Award for the Best Book on Cinema in 2003 for Parama and Other Outsiders—The Cinema of Aparna Sen; and Bharat Nirman Award for 'Excellence in Journalism'.
comments powered by

Disqus