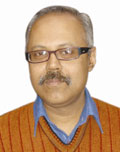 Diptendra Raychauduri
Born in 1964, Diptendra Raychaudhuri is a senior journalist, based in New Delhi. He worked as political correspondent of Anandabazar Parika and is currently Political Editor with Kolkata TV.
His journalistic assignment, that included reporting on the Left Front parties, gave him a deep insight into the functioning of the Left and its predicaments.
Some of his observations may infuriate the Left bosses of today, but the party cadre would testify to the vitality of the arguments presented. It must be remembered that Diptendra has written this book as an insider and has no qualms about admitting his closeness to the Left.
The author's credentials as an author is already well established. His novel Seeing through the Stones—A Tale from the Maoist Land that later came as A Naxal Story... showed his brilliant understanding of the countryside and the way people were turning into Naxals. There too, he said a lot about the deficiencies of the CPI (M) and the Left movement in general.
Born and raised in Calcutta (Kolkata), Diptendra graduated from St Xavier's College in Political Science and completed his masters in Sociology from University of Calcutta. He joined the Anandabazar Patrika in 1987.
comments powered by

Disqus