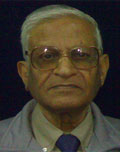 Har Darshan Kumar
Har Darshan Kumar is a member of the United Nations Environment Programme (UNEP) panel on environment effects of Ozone depletion. Issues such as climate change, nano-biotechnology, stem cell biology and alternative and complementary medicines are his current interests as Editor of the Journal of Microbiology and Biotechnology (Seoul).
Kumar is a prolific writer on issues such as climate, environment, agriculture, bio-technology and some frontline areas of bio-medical sciences. He has more than 150 published research and review papers in various international journals. He has authored 25 books on these issues. Born in 1934, Kumar undertook the study of science in its spirit. The dedication soon saw him traveling to the United Kingdom. He completed his PhD in Algal Physiology in 1963 from the University of London, UK, where he was a Commonwealth scholar from 1960-63. He had completed Graduation and Postgraduation in Science from the Banaras Hindu University (BHU). Various scholarships, fellowship and teaching assignments took him to places such as Canada, Japan, Germany, United States, Australia, Argentina, New Zealand, Finland, Korea, China, Thailand and South Africa.
Kumar superannuated as Professor and Dean from the BHU's Faculty of Science in 1994. After that he served as Emeritus Scientist of the Council of Scientific and Industrial Research (CSIR) till 1999. Ever since then he has taken up writing books on issues dear to him. This book, which is his 28th, is another landmark in his career.
comments powered by

Disqus