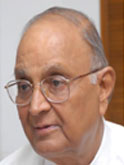 Hari Shankar Singhania
Hari Shankar Singhania is the Chairman-President of J K organization, one of India's leading private sector group employing more 30,000 people. A visionary, Singhania has spearheaded many new businesses in India. He has made significant contribution to national and international business in his capacity as president of the international chamber of commerce, Paris (1993,94), president of federation of India Chambers of Commerce and industry (FICCI) in 1979-80 and chairman of Board of Governors India institute of Management, Lucknow (1992 to 2007).
Singhania bestowed the prestigious award "Padma Bhushan" by the president of India in the year 2003 for contribution to trade and Economics.
comments powered by

Disqus